Articles
An integrated approach to HIV/AIDS: Chikankata Hospital Care and Prevention Teams
by Mark Forshaw. Chikankata Hospital Care and Prevention Teams  As the HIV/AIDS epidemic in southern Zambia began to grow, the  response of Chikankata hospital was to set aside hospital wards for  AIDS patients and to provide out-patient services linked to a  home-based care programme. These services linked communities and community health workers to the hospital services as well as to counselling and education. However, it soon became clear that there were just too many ...
2002

What should the role of the church be in development?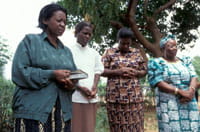 Community members praying with people living with HIV/AIDS. - Photo: Richard Hanson/Tearfund
by Mark Forshaw.
As the HIV/AIDS epidemic in southern Zambia began to grow, the response of Chikankata hospital was to set aside hospital wards for AIDS patients and to provide out-patient services linked to a home-based care programme. These services linked communities and community health workers to the hospital services as well as to counselling and education. However, it soon became clear that there were just too many people for the hospital wards or out-patient services to cope with. Many of their needs could be met instead by care services based in the community.
Home-based care programme
This programme allowed people to be cared for in their own homes, and created opportunities to train families in the care of people living with HIV/AIDS. There were also opportunities to discuss HIV/AIDS education and prevention with their families and the wider community. These care teams grew to include community nurses, nutritionists, and counsellors with links to the local churches. In addition, as health staff showed Christ's love in action in this way, people were encouraged to ask more about the Christian faith. The cost of the home care programme was just half that of hospital care.
The home-based care programme at Chikankata soon developed into a comprehensive HIV/AIDS programme. This included in-hospital counselling, AIDS education in schools, child support programmes and technical assistance programmes for other organisations. Chikankata thus developed a varied but integrated approach to supporting the local community in fighting HIV/AIDS. HIV/AIDS affects not only all aspects of healthcare and health education, but also all aspects of community life. This includes education, food production, income generation and family life. The programmes aimed to meet the needs of different sections of the community that were affected in different ways.
The Chikankata teams soon realised that the need to change people's behaviour should be at the centre of their AIDS work. However, this change had to be voluntary. It could not be forced on people. Using biblical principles, home care and working with local communities, there was soon clear evidence of community decision-making about issues like ritual cleansing, circumcision, the use of alcohol, and their link with AIDS. The community counselling process helped stimulate reflection. It also provided a way of measuring changes in behaviour by the community. The counselling was linked to home care in the same geographic area. The emotional impact of AIDS in a home was discussed in each community, without naming people. This was often a powerful way of increasing shared community responsibility and removing the stigma of infection.
Integration with the community
Many communities around Chikankata increasingly expected that the hospital, not themselves, would meet many of their needs, not just those related to HIV/AIDS but also other aspects of their lives, such as income generation, food production and schools.
Despite costing less than the original programme, the hospital management found that the use of paid hospital-based community care teams was still expensive. The teams were finding it more and more difficult to meet the growing workload as the level of HIV infection increased. The community healthcare system was also being asked for help on a wide range of community issues. The hospital management met with the local leaders and communities to share their concerns and explain that they could not meet all these demands. Following discussion, a new response was put forward - the development of Care and Prevention teams, which are run by the community and not the hospital.
Care and prevention
Members of the Care and Prevention teams are elected by the community.
The teams are concerned not only with health issues but with general development matters.
Key local people such as health workers and business men and women are invited to join the committee.
Hospital-based staff work as team members.
The local church is encouraged to take a servant role, rather than a leadership role.
The Care and Prevention teams work with their communities to highlight and rank issues according to their importance to the community. Then together they identify the resources available. These could be natural (water, trees, fertile land), physical (hospitals, clinics, donors, banks, schools) and human (teachers, farmers, politicians, committed individuals). A shortage of money does not mean a shortage of other resources.
A plan of action is agreed and people are chosen to manage this. The community provides most of the resources and activities required to respond to the plan of action. An influential individual from the local community is selected to act as the main motivator and link person. The team then negotiates with the hospital staff to agree on the assistance that the hospital can offer to support the community's efforts. This could include regular monitoring and evaluation.
This strategy encourages the community to take responsibility for the provision of caring for fellow members of the community who are seriously ill. Care is not restricted to those who are ill, but includes those most affected by the illness, usually children and elderly parents. One Zambian member of the Chikankata management team commented; 'This is not a new way of working, but finding again our old ways of [community] working.'
The same principle of empowering the local community to care for their people has been carried over into Chikankata's other activities, including their work with orphans. The hospital is now moving away from providing school fees to supporting the economic development of local communities and grants for schools, not just individuals. These new initiatives are under the umbrella of Children in Need. This is a response headed by the local communities, to support all children in need, not only orphans. It is an integrated approach that mobilises communities and strengthens bonds between children and their community. It helps to reduce people's prejudices toward orphans and in particular, orphans who have lost parents due to HIV/AIDS.
Ownership of the programmes
There is a growing realisation that HIV/AIDS work should be regarded as an integral part of other development work. It is essential that community-based programmes belong to the community that benefits from their services - not to healthcare institutions or NGOs. The term community-based should mean 'owned by' the local community not just 'located in' the community. Linking home care, prevention and general development is often a rewarding investment in a community in ways that could not be easily achieved through hospital in-patient care.
Holistic care, which aims to meet the physical, social, spiritual, economic and psychological needs of both the individual and the community, is of huge importance to the teams at Chikankata. These needs are so wide that they can only be met by working together with all those involved; individuals, families, communities, government institutions and NGOs. It is important for all involved in Christian work to remember Christ, the greatest example of servanthood, 'who being in the very nature God... made himself nothing, taking the very nature of a servant.' (Philippians 2:6-7)
Mark Forshaw is the Associate UK Director of AIM. He has considerable experience in HIV/AIDS education and training and in the development of good practice in HIV/AIDS. He spent two years living in East Africa working with AIM and has worked with ACET and other Tearfund partners around the world. His address is AIM, 2 Vorley Road, Archway, London, N19 5HE, UK.
Discussion questions
If you are already running a programme similar to Chikankata, how does it differ and why?
All the following are aspects of Chikankata's work:
Caring for all chronically sick, not only HIV-positive people
Integrating care, counselling and prevention
Integration with broader community development work
Working alongside others: governments, NGOs and community groups
Serving the local community by allowing it to lead.
How do you, or how would you, include these aspects in your work?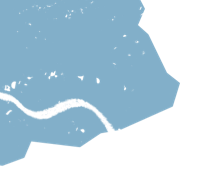 Subscribe to Footsteps magazine
A free digital and print magazine for community development workers. Covering a diverse range of topics, it is published three times a year.
Sign up now