Interviews
Minoti's story
Elgin Saha shares Minoti's story, local public represenative in south Bangladesh and former volunteer public health worker
2003

Practical advice on managing money at home and in small organisations
Minoti's story: The impact of HEED's Micro Finance Programme
by Elgin Saha.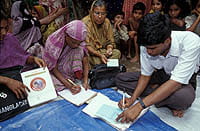 Photo: Richard Hanson/Tearfund
Recently, I attended a one day training seminar for elected female representatives in Fakirhat Thana Nirbahi in the south of Bangladesh. HEED has organised a number of women's groups in this area and a third of the leaders elected came from our HEED groups.
There I met Minoti, one of the female leaders elected, who was attending the seminar. I recognised her because she used to work as one of our health volunteers 15 years earlier. I was so amazed to see her there, I decided to visit her and talk with her and learn from her story. As the wife of a Hindu, getting elected as a local public representative is not just a success, it is an amazing success.
Minoti as a village health volunteer
Minoti received some training to help in her role as a traditional birth attendant. She helped pregnant mothers, both before and after the birth, and received a very small payment for this. With the promotion of family planning, fewer babies were born, and so her small income became even smaller. Her husband was a farmer but did not have enough land to produce food for the whole year. Some of their land was mortgaged to a local landowner to raise money to pay for health treatment for her mother-in-law. As Minoti and her husband were unable to pay the money back, the land remained in the hands of the landowner. Sadly, the mother-in-law died of tuberculosis.
Later, Minoti was chosen to become a village health volunteer (VHV). She was able to make a little money by selling latrine slabs in her village. She received 20% from the sale of each slab. During her four years as a VHV, she encouraged 90% of her villagers to have latrines. However, her income decreased once most of the villagers owned a latrine.
Minoti starts her own business
Minoti then joined a local savings group organised by HEED. As a member she received her first small loan of two thousand taka (US $30). She used this money to begin raising ducks. She also started a small vegetable garden. Minoti is always a sincere and hard worker and God also blessed her efforts. With the success of her duck rearing and gardening, Minoti and her husband were able to reclaim her husband's land which had been mortgaged for over twelve years. The case was not easy, but she asked for help from the sangothan – the local elected female representative.
However, her success did not last long. Shrimp cultivation become very important in the area and the ducks could not be allowed out in case they ate the young shrimps. Minoti had to change her business once again.
Minoti's poultry farm
Minoti applied for a bigger loan from HEED to establish a small poultry farm. HEED was just introducing Micro Finance Programmes on a pilot basis. Minoti received a loan of taka 30,000 (US $450). She began with 500 day-old chicks. Minoti says that God has been very kind to her in all her effort! In the very first year, her poultry farm was a real success. She was the best performer among twelve people who received such loans. The following year, her daughter and son gained good school results. Her daughter is now training to become a doctor, and Minoti says this is her greatest blessing!
Minoti is still busy with her chickens. She is rightly proud of her farm where she keeps chickens, both for meat and eggs. Her monthly income is now more than taka 10,000 (US $150). I visited her to learn more about the reasons for her success and asked about her future plans.
Minoti said that she has never planned to change anything herself. Rather, she depends on God to direct her as the circumstances of her life change. 'HEED has also helped and motivated me to change my course. Now my husband is giving more time to the poultry so that I can give more time to the community as I have been elected as female represent-ative for our ward (district).'

I asked Minoti what motivated her to stand for election. She replied, 'Hindus are a minority group here. We face much harassment and oppression. Now I am running a small business successfully, and everybody knows about this success. But if I had not stood for a political position, no one would provide me with any security. Now, by the grace of God, I have been elected, and I have some influence and power. If I go to the police station with a request, they will at least try to help. Without this, nobody would listen to us.'
'As a political leader from a Hindu background, I always face many threats. But our good relationships have helped not only to keep our family safe, but also other minorities in the village.'
I asked if, as an elected leader, she would only help the minorities. 'Certainly not,' Minoti replied. 'I have more Muslim friends than Hindus and they help me a lot. Many from the Muslim community here are also vulnerable.'
I asked Minoti about how much of the HEED loan still remained and what she would do next. She said that just one month of the loan remained to pay. She did not plan to take another loan immediately. In the future, however, she will ask for a loan to lease more land for a fishery project with a small local cooperative.
As I returned home, I continued thinking about Minoti. Development can mean many things:
change
empowerment
political authority
peace
life in harmony with others (security)
sharing the gift.
Minoti's story shows many indicators of successful development. Development is an ongoing process, and Minoti is still considering future challenges.
As a Christian development agency, HEED promotes hope, light and life. I saw each one of these in the life of Minoti. She often mentioned God's grace in her life. All the credit surely goes to him for these changes.
HEED's Micro Finance Programme
HEED now has 80,000 clients, of which 72,000 are women. Overall, 96% of the loans are paid back. So far, it has given out over £10 million in over 200,000 separate loans. Savings group members have now saved nearly £1 million.
HEED finds that:
Poor people can prove themselves creditworthy without having any kind of guarantees such as land or buildings owned.
Poor people can only receive loans through NGOs, as they will not qualify for bank loans.
Strict discipline is needed to develop the culture of savings and credit.
Loans must only be made to groups that can act as guarantors for the loans.
HEED charges an interest rate of 12% on loans. From this, 2% is kept in a social welfare fund which is used to cover bad debts. Loans must be repaid within 12 months on a monthly basis.
Elgin Saha is the Executive Director of HEED, a Christian-based development group operating in Bangladesh for the past 25 years. Its address is PO Box 5052, New Market, Dhaka 1205, Bangladesh.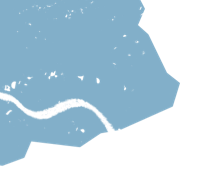 Subscribe to Footsteps magazine
A free digital and print magazine for community development workers. Covering a diverse range of topics, it is published three times a year.
Sign up now