A zoonosis is a disease or infection that is naturally transmitted between animals and humans. Zoonoses cause serious public health problems and often particularly affect poor communities. Although they are usually preventable, many zoonotic diseases continue to spread because they are neglected by national and international health systems. Zoonoses are also responsible for many new diseases. In fact, the majority of new diseases that have emerged over the last few decades have been passed from animals. Since they also affect animal health, they affect food production and international trade in animal products which in turn affects economic development.

There are more than 200 known zoonotic diseases, caused by all sorts of germs which circulate in wildlife, domestic livestock or both. Examples of zoonotic diseases that can be passed from livestock to humans include bird flu, sleeping sickness, tick-borne diseases, tuberculosis and some worms. Rabies is another important zoonotic disease, although it is carried by dogs rather than livestock.

Zoonoses can pass between humans and animals by a variety of routes including direct and indirect exposure to animals, their products and/or their environment. For example, infection can occur by eating contaminated food, through animal bites, insect bites or contamination of the environment. Therefore methods to prevent human infection vary for different diseases, with several examples described below. It is important to control animal diseases to prevent onward transmission to humans and to maintain healthy productive livestock.


Human sleeping sickness (East African form)
Animals affected: Mainly cattle.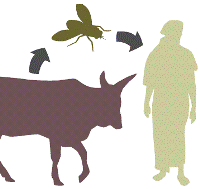 Transmission: By the bite of an infected tsetse fly.

Human disease: Headaches, fever, weakness, pain in the joints, and stiffness in the early stage while the parasite multiplies in the blood and lymph. Fitting and changes to both personality and normal sleep patterns occur in the second stage (after the parasite moves into the brain), leading to death within several weeks or months.

Treatment: Seek medical attention, particularly if in an area where infection is common. In most cases, medication will cure this disease, although the chance of serious side effects is much lower if treated early.

Prevention and control: Early diagnosis and treatment in humans, mass treatment of cattle and control of the tsetse fly.
Pork tapeworm
Animals affected: Swine (pigs and boar).

Transmission: When people eat raw (or undercooked) pork containing tapeworm larvae, adult tapeworms can grow in their gut and release tapeworm eggs in their faeces. It is then very likely that they and their close household contacts will ingest the eggs via contaminated fingers, food or water. These eggs develop into larval cysts in human tissues causing disease.

Human disease: Disease is caused by larval cysts which most often develop in the central nervous system or eyes. Symptoms include seizures, headaches, learning difficulties and convulsions. Note that tapeworm infections in the gut spread the infection but do not cause the disease symptoms.

Treatment: Can be hard to treat and is often chronic. Seek medical advice.

Prevention and control: Handwashing after going to the toilet and before preparing food or eating is very important to prevent ingestion of tapeworm eggs. Strict meat inspection and eating only well-cooked pork are also important to prevent transmission of the tapeworm from swine to humans.
Rabies
Animals affected: Domestic and wild animals. Dogs are the source of 99% of human rabies deaths.

Transmission: Close contact with infected saliva via bites or scratches.

Human disease: After a typical incubation period of 1–3 months, symptoms such as fever and prickling/burning at the site of infection develop. Progressive inflammation of the brain and spinal cord follows and the disease is fatal without treatment.

Treatment: Consult a doctor immediately if you have been bitten. Please note that dogs with rabies generally behave normally, so all bites are suspicious. Wound cleansing and vaccination within a few hours after contact with a suspect rabid animal can prevent rabies in the patient and possible death.

Prevention and control: Vaccination before coming into contact with rabies can prevent infection. Animal vaccination (mainly dogs) helps prevent the spread of disease. Human vaccination is recommended for travellers to affected areas and for animal handlers in high risk areas.

Dr Sally Best is a medical writer. Her PhD research was on new methods for diagnosing human sleeping sickness.