Community Health Global Network (CHGN) is a small organisation with a big vision. We believe that things are better when we work together.

CHGN brings together people who want to improve health and well-being in their area. We call these groups 'Clusters'. There are currently Clusters in Myanmar, India, Kenya, Tanzania, Zambia and Sierra Leone.
Clusters come in different shapes and sizes. Some are urban, some are rural; some are made up of NGO staff and faith leaders, others are made up of farmers and community health workers. But they all have these things in common:
Cluster members believe they are stronger when they work with others. In Kenya, conflict between tribes has shown the destructive power of division. And so the Cluster in Kericho encourages different organisations and tribes to share learning and skills together. They join together for advocacy, and unite to promote disability awareness and tackle substance abuse.
Every Cluster has unique strengths and gifts. The Cluster in Kenya has talents in storytelling and creativity. In the Zambia Cluster, there are wonderful skills in hospitality and a naturally enterprising mindset.
Clusters can grow from small beginnings to have a big impact. In Uttarakhand in India, the Cluster started with 13 organisations. Today, it includes more than 50 community-based organisations. The state government now sends some of its staff to be trained by the Cluster.
Clusters know there are many ways to improve health and well-being. In Zambia, the Cluster in rural Gwembe district is focusing on income generation, water and sanitation, maternal health and youth. In Myanmar, the Cluster in urban Yangon is focusing on building trust between faith-based organisations, and sharing information through joint training.
Finally, some news: CHGN is changing its name to Arukah Network. The Hebrew word 'Arukah' means complete physical, mental and spiritual healing and restoration. It perfectly captures what we think health is about. If you would like to be part of the Arukah Network, please get in touch.
---
Caring for people with disabilities in India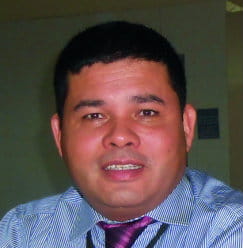 Lawrence Singh is a member of CHGN's Uttarakhand Cluster in India. He works for AKS Hope Project, which provides a wide range of health care services to people in need.
Many people want to share any joy or sadness in their lives with the church. This provides a great opportunity for the church to get involved in health care. This is not a new idea. I remember about 15 years ago when HIV was so common in India, the church came forward. Now there is a shift and the church is beginning to engage with disability. We need to consider how to include disabled people in our churches.
Recently, AKS Hope Project ran a retreat for people with disabilities and parents of disabled children. We did this with churches and other organisations. The church can be a family journeying with disabled children.
We also encourage churches to run 'Luke 14 dinners'. In Luke 14, nobody came to the rich man's feast. So he told his servants to invite everybody who was in the street – the blind, the lame, everyone. We held one of these dinners in a big hotel once, and the churches paid for it from their offerings.
It also helps to involve other faith groups. For example, if we are going to run a health camp, we ask the mosque, the temple and the church to announce it a few days before. This means that more people will hear about it.
Sometimes there is a big gap between Christian organisations and churches. If this gap is reduced, you will see amazing results in health care.
Website: www.akshopeprojectindia.org
Email: akshopeproject@gmail.com