In 2002, local NGO Ayo Indonesia started to promote sustainable agriculture to the farmers' group 'Suka Maju' in Meni in Golo Ngawan village in the East Manggarai district on the island of Flores, Indonesia. They were introduced to new ideas for land conservation and agroforestry to increase land productivity.
People started planting trees from the pea family and cash crops and some nurseries for trees were also developed. In the beginning only 16 farmers joined the programme as most farmers in Manggarai do not like to follow an activity without seeing good results first. The 16 group members were challenged to prove that a real change could be made.
The agroforestry programme aims to:
increase land productivity
protect the local environment
guarantee food security
produce extra income.
It consists of planting various kinds of cash crops (cocoa, bananas, mahogany, cloves and Gmelina arborea), trees from the pea family and food crops on the terraced land using a particular planting pattern for every kind of crop. On the inner side of the land cash crops and food crops are planted. Calliandra, mahogany and Gmelina arborea are planted on the outer side of the land with 3 x 4 metres planting space between each tree. Calliandra is important since it can improve land fertility and can be used by families for firewood (see p3). Calliandra must be pruned regularly. When the cut parts are buried they become an extra fertiliser.
After eight years of hard work the farmers can now harvest the fruits of success. All the trees that were planted are very productive. Every member has an average extra income of 1.66 million Indonesian rupiah (US$ 185) each year from agroforestry.
The most successful farmer is Rofinus Nafir, who is 42 years old and father of four children. He tells how agroforestry can improve a family's life: 'Before joining the agroforestry programme, I earned a living by working as a day labourer in government infrastructure projects or clearing other people's lands. I had a very small income which was never enough to pay the household bills. But now I can earn 9.7 million Indonesian rupiah (US$ 1,066) in a year. My previous income has tripled. I'm very glad about the success and have decided to use my front garden as a nursery for cash crops and various tree seedlings like cocoa, Gmelina arborea and mahogany, to increase my income even more. I am using the money to pay for my children's education and to build a convenient house for my family.'
Now, after seeing the improvement in Rofinus's and his family's life, many farmers have been motivated to imitate Rofinus's hard work. They use the agroforestry techniques which he shares during the training or motivation sessions for new farmer groups.
What we have learned
Agroforestry increases the productivity of the land without requiring money and materials from outside the local area.
Agroforestry prevents landslides and erosion, and increases the amount of water absorbed by the soil in the rainy season.
Agroforestry guarantees food security and income for farmers.
To motivate new farmers to participate in the programme they have to experience the success stories of other farmers.
Agroforestry reduces poverty.
Richard Roden
Yayasan Ayo Indonesia
Kotak Pos 149
Ruteng, Flores, Indonesia
Email: ayo2indonesia@gmail.com
Look at the Resources page to find sources of information on agroforestry, including the Agroforestree database.
---
Preventing fires

A firebreak is an area of land that has been stripped of any possible fuel for the fire. This includes dry roots beneath the surface, as fires may burn along them overnight. A firebreak should prevent fire transferring from one side of the firebreak to the other. Firebreaks should be at least one metre wide, depending on the size of the area and the trees being protected, and as straight as possible. A local forestry worker can give advice on preventing uncontrolled fires.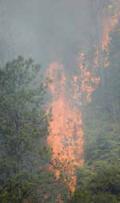 Forest fire started in Honduras by a local farmer who failed to ensure there was a wide enough gap between his land and the hillside forest when using slash and burn techniques. Photo: Geoff Crawford/Tearfund