Articles
A helping hand for ex-prisoners
An organisation in Kyrgyzstan that runs a rehabilitation centre for male ex prisoners shares how it is helping them to reintegrate into society
2011

Tackling stigma through dialogue and building relationships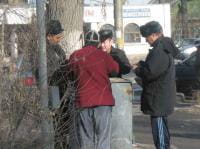 Men meeting on a street in Kyrgyzstan. Photo: Joanna Watson/Tearfund
In some places, stigma and discrimination are made worse through official practices that deny people their rights or exclude them from society. Here, an organisation in Kyrgyzstan that runs a rehabilitation centre for male ex prisoners shares how it is helping them to reintegrate into society.
It is very difficult for ex-prisoners in Kyrgyzstan to find employment. Many of them do not have a specific place of residence. They feel rejected by their families and society. They are afraid of law-enforcement authorities and many of them misuse alcohol and drugs.
When they enter prison their passports and other identity documents are taken away. This practice dates from the time of the Soviet Union. Although Kyrgyzstan has changed in many ways since independence, this law remains the same. At release a prisoner needs a reference that will allow him to take his passport. Until he gets it, he has very little chance of rebuilding his life. He has no income, no registered address and no means of getting a job. He cannot open a bank account or go to a doctor. This is because he does not exist in the eyes of the law and has no way of proving his identity. It is difficult for ex-prisoners to get their documents back.
Recovering documents
We developed relationships with the local authorities, the police and the Ministry of Justice in order to help men recover their documents and find a new start in life.
Before a prisoner comes to our rehabilitation centre he is registered at the local police station. Our staff, who are involved in restoring ex-prisoners' documents, give the police a reference on the ex-prisoner's behalf, with the condition that he will go through a year-long rehabilitation programme in the centre.
We aim to gain the trust and respect of the local authorities because they are responsible for authenticating ex-prisoners' documents and providing new documents when necessary. We also work closely with the local residents because their initial reaction towards ex-prisoners is mistrust, and fear that they might break the law at any moment. This leads to rejection and stigma.
Developing trust
Our experience has shown that this can be overcome by developing trust with local authorities and local residents through demonstrating that ex-prisoners are able to reintegrate and make a positive contribution to society, for example, by:
developing their confidence and team work through construction projects and other activities
helping them to recover from addictions
inviting them to participate in church programmes and community events
helping them to rebuild relationships with their families
providing a half-way house to give them the opportunity to learn how to live independently after being in an institution (eg how to cook, go shopping, clean and make decisions without supervision)
teaching life skills such as relationships, managing money and income generation.
This has helped to change society's stigmatising attitude towards these men. People realise that they have equal value and worth.
At the end of the year-long rehabilitation programme at our centre, the ex-prisoners are able to collect their documents. As a result, they regain their identity and have the opportunity to rebuild their lives. In making this possible, we hope to challenge the old official practices in a positive way, so that there is a long-term change in the treatment of ex-prisoners.
Kyrgyzstan is a country in Central Asia. It shares a border with China on its eastern side. The organisation working in Kyrgyzstan was founded by an ex-prisoner who was inspired to help others like him.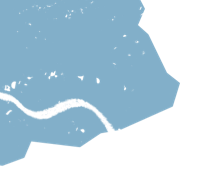 Sign up now to get Footsteps magazine
A free digital and print magazine for community development workers. Covering a diverse range of topics, it is published three times a year.
Sign up now