Articles
Natural resource management
The over-use of natural resources can threaten the health, welfare and even the survival of communities
2010

How to look after the precious natural resources on which we all depend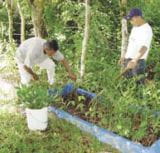 Local college's tree nursery for reforestation of mangroves on lagoon shore. Photo: Steve Collins
by Judith Collins.
In the past, the way in which people living in the Mosquitia region of Honduras used their natural resources had little lasting impact on the area's vast expanses of forests and wetlands. However, rapid population growth, the influx of new colonists and a gradual move from subsistence to a market economy are all putting pressure on the area's fragile ecosystems. Current problems include deforestation, over-fishing, over-hunting, erosion, and soil and water pollution.
Community identification of the problem
For a long time, local leaders had recognized that the over-use of natural resources was threatening the health, welfare and even the survival of their communities. However, a series of work shops, facilitated by Tearfund partner MOPAWI, helped the communities to work out for themselves what the nature and scale of the threat was.
Men, women and children from 15 different communities – as well as representatives from local organisations and authorities – worked together to develop an action plan for the rational use and conservation of their shared natural resources. They used the six steps shown on pages 8–9.
Community action
Since the workshops, various community groups have carried out different aspects of the plan. For example:
Erosion along the edges of lagoons is being tackled by replanting mangroves and other tree species.
Wherever possible, rubbish – which used to be thrown onto the ground, burnt or buried – is being reused, recycled or composted. The compost is used to grow vegetables; a new activity for many local residents.
To protect water quality and improve community health, basic sanitation issues are being addressed through health education in schools and the construction of latrines.
Farmers have been trained in the use of sustainable agroforestry techniques.
Local groups have been lobbying local and national government officials for greater application of the law, particularly in relation to extraction of timber, fishing, hunting and the influx of new colonists into the area.
Lessons learnt
It is important to have:
sensitive and experienced facilitators who can successfully guide the process without imposing their own ideas
a high level of community participation, resulting in empowerment and a feeling of ownership
the involvement of local organizations and authorities such as schools, health centres, police, local government and agencies responsible for the protection and/or management of the area's natural resources
plenty of time for participants to discuss and analyse the interconnected historical, cultural, spiritual, social, and economic issues affecting the use of their natural resources
a group of people who are responsible for the over all co-ordination, monitoring and evaluation of the action plan. This group might also be involved in activities such as fundraising and lobbying.
See pages 8 –9 (Develop a community action
plan for shared natural resources) for the process, which you can adapt and use in your community.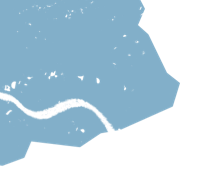 Sign up now to get Footsteps magazine
A free digital and print magazine for community development workers. Covering a diverse range of topics, it is published three times a year.
Sign up now