Articles
Saving fuel
A story about saving fuel in Kenya by using solar cookers
1995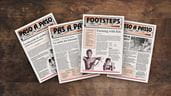 Different approaches to training and facilitation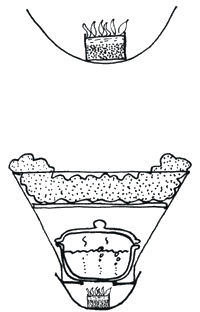 I've just returned from two conferences on solar cooking. People in Kenya were saying that people would never give up their fires for solar cookers, because in the evenings they like to sit and watch the flames.
In the hotel where I stayed they used simple fuel savers to keep the food warm. They were just small tins filled with sand and meths. Not only did they keep the food warm, but they also provided lovely yellow flames. One tin lasted for two to three hours.
Next day we tried this with a debe cooker (shown in Footsteps 21). It worked wonderfully well. You can't see the flames, of course, until it is dark. Remember to insulate the cooker on top to stop all the heat being lost.
Fill a small tin half full of ordinary sand. Stand the tin in a metal bowl or a hollow in the ground. Then pour methylated spirit into the tin until there is a shallow pool of meths on top. To light, simply put a lighted match into the meths. The debe or pot can stand on a grid or on a metal stand just above the flame.
You will find meths makes no smoke or dirty soot. Put it out by simply covering the flame. For extra light, try standing the burner on a tin lid or something shiny.
Anna Pearce, Box Aid, 11 Hill Top Lane, Saffron Walden, Essex, CB11 4AS, UK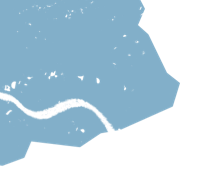 Subscribe to Footsteps magazine
A free digital and print magazine for community development workers. Covering a diverse range of topics, it is published three times a year.
Sign up now