Advocacy is never just about raising awareness. It is about trying to change the policies, practices and attitudes that cause poverty and injustice.
A lot of development work focuses on providing essential services, such as water, sanitation and health care. In many countries, these things are the responsibility of governments. When governments provide the services their citizens are entitled to, this is a key way of reducing poverty. Advocacy involves influencing powerful decision-makers to bring about change.
Here is a story that illustrates this point:
The upstream story
Imagine that you are standing by a river and someone in front of you has floated downstream and is drowning. What would you do?
Most people would be motivated by compassion and would probably help to rescue that person from the river.
But what if it happens again? What if someone else floats downstream and starts drowning in front of you? What if it keeps happening – again and again and again? How many times can you keep pulling people out of the water?
You may call other people to come and help you. Together, you can keep pulling people out of the water. But how long do you keep doing this for?
If you are able, you might start teaching people how to swim, so they can cope and get themselves out of the water.
But someone needs to go upstream and find out why people are falling into the river. (Has a bridge broken and people cannot cross the river?)
1. Rescue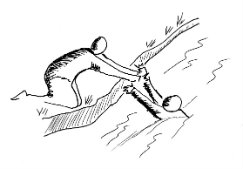 2. Coping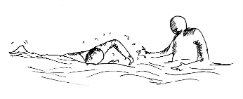 3. Going upstream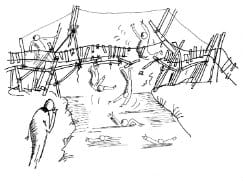 Something needs to be done to prevent people falling into the river in the first place.
Unpacking the story
Each time someone falls into the river and starts to drown, it is as if a disaster is occurring. Rescuing these drowning people is similar to disaster relief work. We are responding to an immediate need in the face of a crisis.
Teaching people to swim is like our longer-term development work. This empowers them to cope with the situation they are facing.
Going further up the stream, to try to stop people from falling into the river in the first place, is where our advocacy work fits in. It is calling on those responsible for the bridge (such as the land owner or the local authority) to fix it, to try to stop people falling into the river.
Adapted from the second edition of Tearfund's Advocacy toolkit (ROOTS 1 and 2) by Joanna Watson. Visit www.tearfund.org/advocacytoolkit to download the Advocacy toolkit free of charge. You can order a printed copy (cost: £20) by following the instructions in the Resources section on page 14.